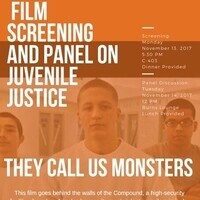 SOCIAL JUSTICE TUESDAY PRESENTS: PANEL ON JUVENILE JUSTICE
Juvenile Justice Panel discussion on the current juvenile delinquency system, Governor Jerry Brown's recent passing of the Criminal Justice Reform Bills, working with kids in the delinquency system, and potential reforms.
Lunch will be provided.
Presented by La Raza De Loyola, the Office of Multi-Cultural Affairs, Office of Student Affairs, Center for Juvenile Law & Policy, and Public Interest Law Dept.
Tuesday, November 14, 2017 at 12:00pm to 1:00pm
Fritz B. Burns Lounge
919 Albany St., Los Angeles, CA 90015