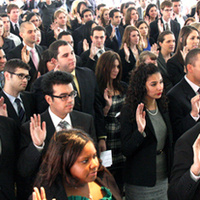 Swearing In Ceremony
The Swearing-In Ceremony will take place on Friday, December 1, 2017, beginning promptly at 10:00 am on the Law School campus. Please remember, you must bring your State Bar issued Oath Card with you. We invite you to bring your family and friends to share in this momentous occasion.
A reception will be held immediately following the ceremony. There is no limit on the number of guests you may invite; however, please let us know how many to expect. Complimentary parking will be available for you and your guests in the Law School parking structure.
Friday, December 1, 2017 at 10:00am to 11:30am
Loyola Law School 919 Albany Street, Los Angeles 90015
Event Type

Website
Subscribe